BETTER TOGETHER
Become a Mouseflow partner and help your clients turn website interactions into lasting relationships
WHY USE HEATMAP TOOLS?

Heatmaps are the most commonly used tool for representing complex statistical data. Engineers, marketers and researchers of every kind use heatmaps to make complex data understandable and actionable.
Charts often have to be explained, tables have to be understood, but heatmaps are self-explanatory and intuitive.
While other kinds of web analytics have their strengths, heatmaps draw immediate attention to significant and critical issues on your website. Mouseflow provides heatmaps to anonymously summarize where people click and touch, move the mouse, scroll on your website, what they pay attention to, and where they are located.
Mouseflow explained in 1 minute


WHY PARTNER WITH MOUSEFLOW?

You want to grow your company and provide exceptional services to your clients. We'll give you an unfair advantage with our best of breed hosted solution, training, and support.

Mouseflow will help your clients improve how they interact with website visitors and enable them to make sense of massive amounts of data. With Mouseflow you can help your clients tap into the intelligence and nature of millions of website visitors converting into customers.

Mouseflow's Partner Program will transform the way you and your client's market and sell.
New revenue streams with minimal investments
Good relationships take work. They require knowledge and the tools to get the job done right.
Mouseflow offers a suite of tools including five core components: session replay (recordings), heatmaps (click, movement, scroll, attention, and geography), funnels, form analytics, and user feedback. We help improve communication and make sense of massive amounts of data. Above all, Mouseflow enables you to turn interactions into lasting relationships. With Mouseflow installed on your client's website(s) you give your clients the flexibility to move quickly, focus on innovation, and scale with their growth.

OUR PARTNER PROGRAM



As a partner you can choose between two (2) different models:

Agency Partner - Who is it for?

The Mouseflow Agency Partner program is primarily for Digital and Public Relations agencies who are already working closely with customers and wants to bundle Mouseflow as a part of their offering. They leverage Mouseflow to offer innovative customer engagement solutions creating monthly recurring revenue. You invoice your clients either for the product or as part of your current offering.



Affiliate Partner - Who is it for?

The Mouseflow Affiliate Program allows Individuals and companies to receive a lifelong commission on their referrals who sign-up for the Mouseflow service. We have a tiered commission structure paid on the total revenue generated..

Download our partner program: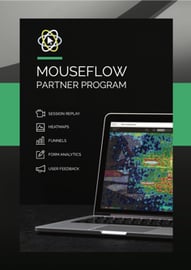 Want to learn more? Use the form at the top or send an email directly to partners@mouseflow.com